DHC
Direct Management Store
AEON MALL Fukuoka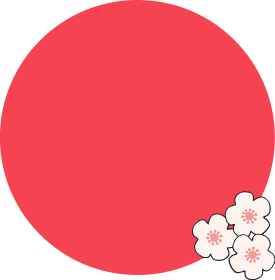 Special
web
coupon

click here >
Where we are
We speak:

Japanese

We accept:

Visa, Mastercard, JCB, AMEX, Diners, UnionPay, Alipay, WeChatPay
AEON MALL Fukuoka 2F map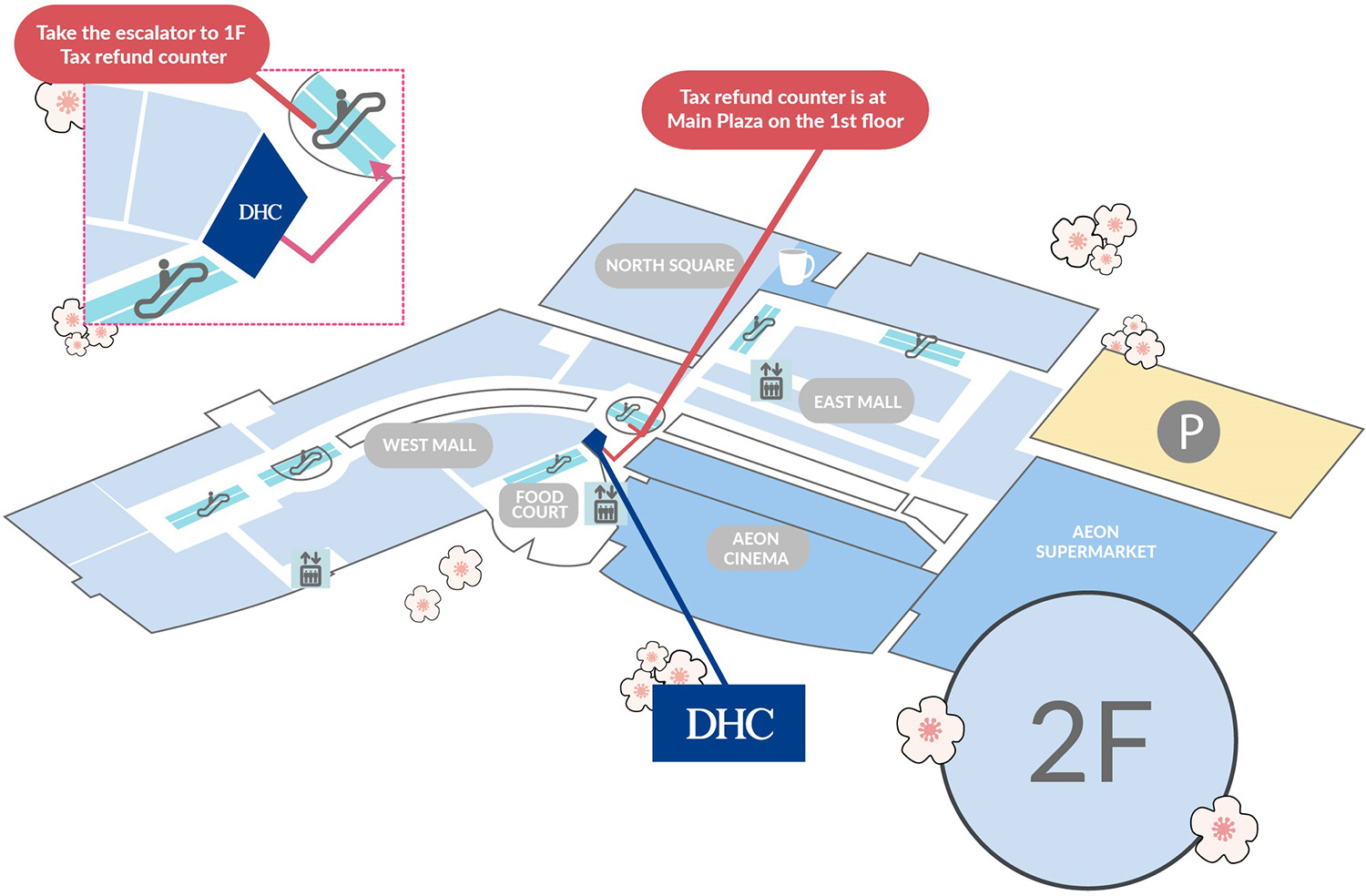 Getting to the Tax
refund counter
Take the escalator in front of the DHC store and go to the 1st floor.
The Tax Refund Counter is just in front of you.
tax guidelines
After paying for your purchase at the DHC cash register, we will wrap the product in a sealed bag. Please come to the 1F Tax Refund Counter at the Main Plaza and get your tax refund. (Attach the purchase record to your passport).

Tax exemption rules:

Spend more than 5,000 JPY up to 500,000 JPY (excluding the VAT8%) on the same day at any stores accepting tax refund in AEON MALL Fukuoka. ("General goods" such as electronic products, leather products, jewelry, clothes and art can be added. *Must be wrapped in special sealed bag and follow the same conditions as "consumables", such as cosmetics, food, beverages, liquor, medicines and tobacco.)
Only temporary visitors who do not reside in Japan and have been staying in Japan no more than 6 months can receive the refund.
Please do not remove or lose the exemption seal attached to your passport until you go through Japanese customs at the airport. Products for which you get a tax refund cannot be used in Japan and must be taken out of Japan within 30 days of purchase. If the product package is opened, you may be required to pay tax at the airport.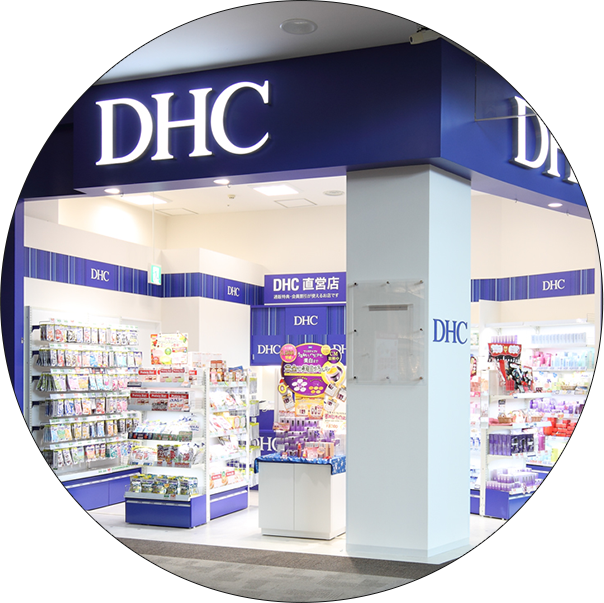 about the store
20 minutes ride from Fukuoka Airport domestic terminal by direct bus.
Brochures in foreign languages are available.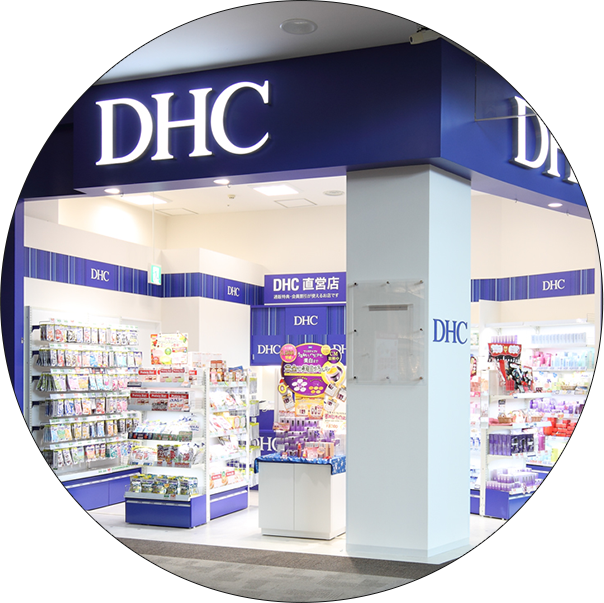 recommended products
DHC Lip Cream

DHC
薬用リップクリーム

DHC 립 크림

DHC橄榄护唇膏

DHC橄欖護唇膏

DHC Pack Sheet Eyes

DHC
目もとパックシート

DHC 눈 전용 시트 팩

DHC水嫩眼膜

DHC水嫩眼膜

DHC Deep Cleansing Oil(L)

DHC薬用
ディープクレンジングオイル(L)

DHC 딥 클렌징 오일(L)

DHC橄榄卸妆油(L)

DHC橄欖卸妝油(L)

DHC Mild Soap

DHCマイルドソープ

DHC 마일드 솝

DHC橄榄蜂蜜滋养皂

DHC橄欖蜂蜜滋養皂

DHC
Medicated Q Eye Cream DHC薬用Q
ショートリンクルクリーム

DHC Q 잔주름 크림

DHC
辅酶精萃赋活眼霜 DHC
輔酶精萃賦活眼霜

DHC Medicated Q Lotion

DHC薬用Qローション

DHC Q 로션

DHC
辅酶精萃赋活化妆水DHC
輔酶精萃賦活化妝水

DHC Medicated Q Milk

DHC薬用Q
フェースミルク

DHC Q 페이스 밀크

DHC
辅酶精萃赋活乳液DHC
輔酶精萃賦活乳液

DHC Facial Scrub

DHC薬用
フェーシャルスクラブ

DHC 페이셜 스크럽

DHC
天然圆粒磨砂膏DHC
天然圓粒磨砂膏

DHC Olive Virgin Oil

DHC
オリーブバージンオイル

DHC 올리브 버진 오일

DHC
纯橄情焕采精华油DHC
純欖情煥采精華油

DHC Mild Lotion(L)

DHC薬用
マイルドローション(L)

DHC 마일드 로션(L)

DHC
植物滋养化妆水(L)DHC
植物滋養化妝水(L)

DHC Eyelash Tonic

DHC
アイラッシュトニック

DHC 아이래쉬 토닉

DHC睫毛修护液

DHC睫毛修護液
view all cosmetics >
Adlay Extract
(30 Days Supply)

はとむぎエキス(30日分)

율무 엑기스 30일분

薏仁精华软胶囊
30日量薏仁精華軟膠囊
30日量
Melilot
(30 Days Supply)

メリロート(30日分)

메리로트 30일분

草木犀软胶囊
30日量草木犀軟膠囊
30日量
Vitamin C Hard Capsule
(90 Days Supply)ビタミンC
(ハードカプセル)(90日分)

비타민C 90일분

维生素C(硬胶囊)
90日量維生素C(硬膠囊)
90日量
Collagen
(90 Days Supply)

コラーゲン(90日分)

콜라겐 90일분

胶原蛋白片
90日量膠原蛋白片
90日量
Nattokinase
(30 Days Supply)ナットウキナーゼ
(30日分)

낫또 키나아제 30일분

纳豆酵素胶囊
30日量納豆酵素膠囊
30日量
DHA
(30 Days Supply)

DHA(30日分)

DHA 30일분

精制鱼油(DHA)软胶囊
30日量精製魚油(DHA)軟膠囊
30日量
Vitamin B Mix
(90 Days Supply)ビタミンBミックス
(90日分)

비타민B믹스 90일분

维生素B群片
90日量維生素B群片
90日量
The Ultimate Joint Health
(30 Days Supply)

極らくらく(30日分)

라꾸라꾸 30일분

高效健步胶囊
30日量高效健步膠囊
30日量
Coenzyme Q10
(γ-Cyclodextrin Complex)
(90 Days Supply)コエンザイムQ10包接体
(90日分)

코엔자임Q10 90일분

辅酶Q10胶囊
90日量輔酶Q10膠囊
90日量
Lecithin
(30 Days Supply)

レシチン(30日分)

레시틴 30일분

卵磷脂软胶囊
30日量卵磷脂軟膠囊
30日量
view all supplements >